BY LAURA LIERA Californian staff writer
Twenty-one years ago, Bakersfield homeowner Jeff Mendoza paid $16 a month for water service. Today, he pays over $70 per month.
And it could go up further if the water company that serves him gets a new rate approved.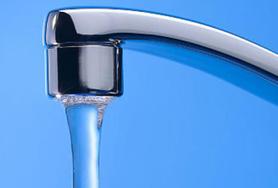 Consumer advocates have recommended a sharply lower rate increase than the 20.4 percent rise Cal Water has proposed to take effect in Bakersfield at the start of next year.
Mendoza and 12 Bakersfield and Kern River Valley residents all stood in front of California Public Utilities Commission Administrative Law Judge Anthony Colbert Monday night and expressed their concern over the 25 percent rate increase Cal Water proposes.
"I have not seen a large increase in my phone bill, car insurance or electric bill," Mendoza said. "But for some reason my water bill has been gradually increasing and Cal Water plans to increase it even more, that is just obscene."
Cal Water's rate proposal affects part of Bakersfield and the Kern River Valley, including Lake Isabella.
The hearing was held to let members of the public comment about the proposed rate change. A second hearing will be held today at 6 p.m. at the Kern River Valley Senior Center, 6405 Lake Isabella Blvd.
The 25 percent increase in Bakersfield is needed in order to maintain the quality of the city's system, said Paul G. Townsley, the company's vice president.
Townsley said he understood people's concerns, especially in today's economy but said Cal Water has calculated the proposal thoroughly and the rate increase is necessary.
"We really need to invest in the community's water pipes, tanks, wells and treatments plans," Townsley said. "I know many people are concerned about the rates but unfortunately over the last three years, our costs have gone up too, in order to maintain an excellent quality of service."
One Kern River Valley resident noted that switching to water companies wasn't as easy as going down the street and picking a cheaper one. The proposed rate increase in the Kern River Valley is 42 percent.
"Where are we supposed to come up with so much money every month if most of us are living on fixed incomes and can barely afford the average $177 monthly water bill we pay right now?" said Thomas Wright of Kern River Valley.
Wright and other speakers agreed with the PUC's Division of Ratepayer Advocates, which rejected Cal Water's rate proposal. The DRA asked that the utility's rate increase be limited to 1.6 percent.
The DRA is an independent arm of the California Public Utilities Commission, created by the Legislature to represent the interests of ratepayers.
"We understand the financial burdens many residents have to go through on a daily basis," said Danilo Sanchez, the DRA water branch manager. He added "and paying more for water should not be another burden because water is a living necessity."
For the full article, Proposed Cal Water rate hike gets a poor reception at hearing, click here.