By Ryan Lavis/Staten Island Advance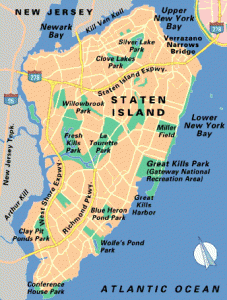 STATEN ISLAND, N.Y. — More accountability.
That's what some elected officials on Staten Island are calling for when it comes to the city's ever-rising water rates.
And with another price hike already in the works, Assemblyman Michael Cusick (D-Mid-Island) promoted legislation on Sunday that would potentially bring more transparency to the New York City Water Board, a seven-member agency appointed by the Mayor's Office and tasked with enacting the rates set by the city Department of Environmental Protection.
Cusick proposed that membership of the board include the five borough presidents. This way, he said, homeowners would be given a greater voice through their elected officials during the often ambiguous process of setting water rates.
"Those affected by the rate increases feel that the public hearings and votes are formalities for decisions that have already been made," Cusick said Sunday from the home of Ed Malone, the treasurer of the Westerleigh Improvement Society and a longtime proponent of change in the current system.
The assemblyman was joined by Councilman James Oddo (R-Mid-Island/Brooklyn), Councilwoman Debi Rose (D-North Shore) and Mike Morrell, president of the Westerleigh Improvement Society.
Malone, a Westerleigh resident, plans on voicing his opinions during a public meeting Monday at the Joan and Alan Bernikow Jewish Community Center at 1466 Manor Rd. in Sea View.
Malone has attended these forums eight consecutive times, bemoaning the public's low turnout.
"I've been at all the meetings. Not very many people attend. It feels like there's nothing you can do about it … like you're wasting your time," said Malone.
The city is seeking to increase water rates by 5.6 percent. This hike would take effect July 1, the start of fiscal year 2014. Considering that rates have gone up each year of the Bloomberg administration, Cusick and his colleagues said they hoped things would be different with the next mayor.
"If we could get our candidates for mayor to commit to legislation like this, we know we could have fairness when it comes to water rates," said Cusick.
There was a 7 percent increase in fiscal year 2013. In 2012, it was 7.5 percent, and 12.9 percent in both 2011 and 2010. In 2009, it spiked to 14.5 percent.
Oddo, running for borough president, blamed the hikes on several factors. Costly government-mandated projects that the DEP must undertake drive water rates up, he said, as well as annual rental payments the New York City Water Board makes to the city to use its water system.
"The reality is that the city includes this rental payment because it's a backdoor tax that goes back into the general fund," Oddo said. "Since 2005 this administration has been using this rental payment technique to spike rates and generate money for the general fund."
Cusick's bill, Oddo said, would "give the public a fair shot by having the decision-making in the hands of people who are much more accountable."
"These increases take money out of our pockets and fuel cynicism in the public that everything is going up and that the public can't fight City Hall."
For the full article, Staten Island Lawmakers Call for More Accountability in Water-Rate Hikes, please click here.